Puebla Mexican Food
88 Essex St. #50, New York, NY 10002
Order now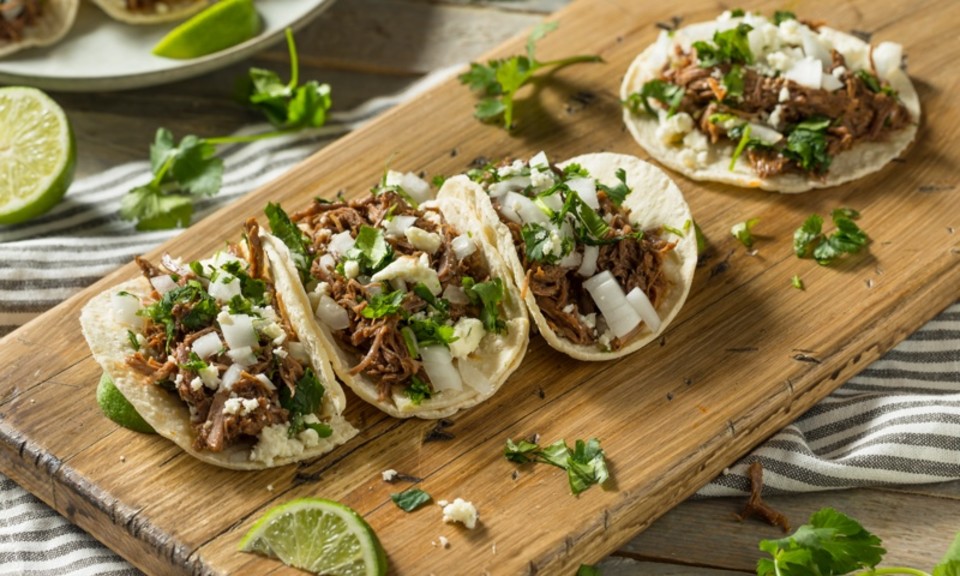 Tyler
This place has the best friggin burritos in New York. I've eaten burritos all over North America. And the price is right. $7 for a dang good burrito, packed to the hilt, covered, no, smothered in sour cream and cheese and beans, for $7!?! who can beat that. - Tyler.
Negar
I love delivery from this place! Food is fresh and prepared well and the delivery guy is so nice (and quick!) So far, I have ordered breakfast and lunch items (sandwiches, tacos, breakfast burritos) and all of these items have been 100% satisfying.
Sudarshan
If you can handle the heat, the enchiladas suizas is the best cheap mexican food you can get. Best with cheese but a truly unique, flavorful and amazing sauce and a superb dish. Very spicy though! Good tamales too.
Gary
Always good, and the fact that they are open for breakfast definitely separates them from the pack. Chorizo breakfast burrito rocks!
Annalisa
Almost as good as grandmas eats, packed properly and got here super quick. We'll be ordering from them again!
Myrna
I would have been satisfied with the food. The food was great, except that I called to report that I did not get my sangria senorial and even suggested that next time I ordered they could just send it. I was being nice and not have their delivery person turn around and come all the way over here just for a $2 drink. So I thought it was settled and I was a happy customer, even without my drink. However, the woman called me back and tried to argue that she sent an horchata by mistake. I know what horchata looks like! I explained to her that there were no drinks and she kept arguing with me that there was. That she put it in my bag and that she knew so because it belonged to the building next to mine. I'm really dissapointed that she would even call back and treat me as a liar, trying to keep something I didn't even receive. In fact, they are the winners in all of this. They got a tip, I even gave the gentleman an aditional $2 tip, and lost $2 on a drink. How about that?
Andrew
this place is great. Reasonable prices, super fast delivery and the food is very good! The pork is great here. I like the pork burrito and the burrito de papa with sausage. edit - I love the chilaquiles here - i don't have much reference but it is spicy and delicious! The chips under do get kinda soggy but i almost feel like thats the point as they are soaked through and yummy. The sauce is more like a thick spicy gravy bean thing. All very tasty and comes quick so can't really go wrong.
angela
Every time! This place is always on point. I love everything I've ever ordered here. From when they were on 1st Ave to (thankfully) open again in the Essex market.

Puebla has outstanding, flavorful food that will not let you down.

My favorite is the picadillo burrito. It's one of the only burritos I eat.

Thanks for being the best Puebla!!
Jennifer
Originally from Texas, I was in search of a place to order tamales during the Christmas season. I found it! They have many kinds of tamales and their sauce is off the hook. The only other things I've ordered were their breakfast tacos, but they were the bomb too so we will be ordering again, and will venture to try other menu items.
Dave
This food here reminds me of Mexican food in San Diego. I haven't found anywhere else in the city that does that. It has an authentic look and feel and the everything I've tried has been fantastic. It's not gourmet, but it's not supposed to be! They really know what they're doing. Usually pretty quick delivery too.
About us
Breakfast, Chicken, Classic, Cuban, Diner, Healthy, Lunch Specials, Mexican, Salads, Sandwiches, Seafood, Spanish, Steak, Vegetarian, Wraps
Today

Delivery: 10:30 AM - 3:30 PM

Takeout: 10:30 AM - 3:00 PM

Delivery

Monday:

10:30 AM - 3:30 PM

Tuesday:

10:30 AM - 3:30 PM

Wednesday:

10:30 AM - 3:30 PM

Thursday:

10:30 AM - 3:30 PM

Friday:

10:30 AM - 3:30 PM

Saturday:

11:00 AM - 2:30 PM

Sunday:

10:30 AM - 3:30 PM

Takeout

Monday:

10:30 AM - 3:00 PM

Tuesday:

10:30 AM - 3:00 PM

Wednesday:

10:30 AM - 3:00 PM

Thursday:

10:30 AM - 3:00 PM

Friday:

10:30 AM - 3:00 PM

Saturday:

10:30 AM - 3:00 PM
High quality, freshness, craveable flavors are just a few of the many qualities you will find by ordering online from us. Now, with the convenience of online ordering, you can enjoy our meals in the comfort of your own home. It does not matter if youre alone, with friends, at work or at home; just be sure to not miss out on a wonderful meal.